Reebok CrossFit Lifter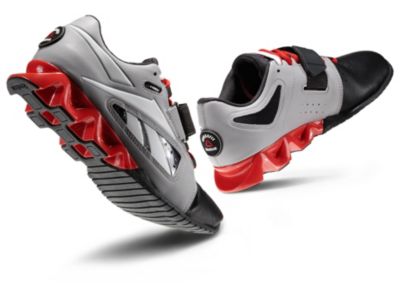 Mens and Womens Reebok CrossFit Lifter – $149.99
from: Reebok
Reebok tried to marry a running shoe with a Weightlifting shoe.  The result?  Confusion.
A mass-produced Weightlifting shoe is a relatively new venture for Reebok.  Prior to these, the last time I saw a Reebok Weightlifting shoe was back in the late '90's. For a brief period, Reebok sponsored the Russian Weightlifting Team with shoes, singlets, outfits, etc.  But even then I never saw their shoes available for sale or worn by lifters other than the Russians.  For a modern attempt at a shoe designed to do overhead lifts, they did a fairly decent job.  The shoe is made in the same method now employed by all the market leaders: a TMU (thermoplastic polyurethane) heel molded to the shoe; lightweight perforated upper / soft full grain leather toe; polyurethane molded sock liner, and nylon mid-foot strap. When you examine the Reebok's features, it initially looks exactly like the Adidas Adipower and Nike Romaleos 2; however, Reebok has made two very distinct differences over Adidas and Nike.
The first one is "U-Form," Reebok's method to get a custom fit in your shoes.  After heating your oven to 200 degrees F, you then toss in your brand new shoes for three minutes.  When you take them out, you put them on and sit in a chair for eight minutes.   This process molds the shoes to your feet for a custom fit.  The second is color, color and more color!  Spring for an extra $40 and you can customize your shoes to no end.  Reebok offers  14 (yes, 14!) different places on the shoe for which you can select 1 of 16 brilliant colors, as well as your choice of 4 different types of leather. From the eyelets and lace loops down to two separate places on the sole, your shoe will be totally custom and more than likely be one of a kind!
This shoe is very light.  Size 9 feathered the scale at 386g, making it the lightest lifting shoe available.  Considering their primary market is Crossfit and not specifically for Weightlifting it's a good thing.  A light weight shoe provides a huge advantage when doing hundreds of box jumps, double-unders, pull-ups, burpies, etc.  The super-light weight will become obvious when you are gassed at the end of a WOD and need to complete a few more reps.
The heel and overall pitch also differs from traditional Weightlifting shoes.  Here, Reebok's heel measures a bit less than normal, somewhere on par with the new Adidas PowerLift Trainer.  The lower pitch will be welcomed by people not accustomed to lifting shoes and a bit frowned on by avid lifters. The pitch is about 6%, vs the 7.8-8% in the Adidas and Nike flagship models.  Measuring the weight of each shoe individually revealed that manufacturing quality is very high.  The shoes were within .8% of each other, which, compared to some others is nothing short of remarkable.
A first look at them lets you know immediately that they are manufactured by a major shoe company and not a small private firm.  In no way do they resemble a dress shoe made of hand-stitched leather and slight variations,  but more fresh-from-a-mold with that cookie cutter, mass-produced look you see in all new sneakers.   Because of this manufacturing process, the shoe has no obvious imperfections and the small stamped details look excellent.
When I slipped them on, my first impression was…wow!  To the touch they are so soft and comfortable, like a worn leather slipper.   After walking around for hours, I almost forgot I was wearing lifting shoes; however, the lack of a good arch was becoming apparent.  In stark contrast to the Nike Romaleos 2, the forefoot of the Reebok bends very, very easily.  Jumping up and down was effortless in this shoe.  Before I trained extensively in the shoes I wanted to take advantage of the U-Form, so I then baked them. Wearing the shoe, both before and after the this process, the difference was negligible.
After a week of wearing the shoe in heavy training, the shoes' light weight and very soft upper became really apparent in the lack of lateral support they provided.  This could have been caused by the outdoor prowler runs or heavy lifting.  Whatever the reason, the toe box began to feel too sloppy and loose.  Stability became an issue when doing the classic lifts, especially Split Jerks.  My lead foot in the Jerk didn't seem as planted, and overall I didn't feel as assured as I had when they were new.  I tried lacing them tighter and making the strap more snug, but with minimal results.   There was no issue with the receiving position in cleans or doing squats, but in Snatches and Jerks, I felt a bit uncertain and not as planted as I usually do in other top-of-the-line lifting shoes.
After lifting with classic Weightlifting shoes with the higher, normal shoe pitch, it took a bit of time to get used to the new body positions with the lower pitch the Reebok put me into.  This only became an issue with max attempts in both Clean and Snatches.   The lower pitch put me in a slightly unfamiliar body positions at the bottom of the lifts, which I never completely adapted too, even after ten days of training with them.
The thin sole is exactly like both the Adipower and Romaleos 2.  This is great, but as all experienced lifters know, you don't wear your lifting shoes outside!  Experienced  lifters change into lifting shoes just prior to training.  The sole is not designed for a lot of wear and tear, especially the newer models with their 'micro' thin soles.  The downfall of the Reebok shoe is that a lot of Crossfit WOD's include an outdoor component such as a run, sled pull, sandbag carry, etc. After a week, the sole deteriorated significantly from outdoor use.  The sled and prowler really took a toll on them.  I would not recommend the Reebok Cross fit OLY shoe for outside runs because of the hard heel, and using them for heavy sled / prowler work will break down the sole and lateral support very quickly.
If you are shopping for an shoe for indoor WOD's that have non-maximum weight training, and you want the additional benefits of easy movement, stability with better body positions than your current CrossFit Nano, then the Reebok CrossFit Lifting shoe will suit your needs perfectly.  However, if you want a shoe specifically for Weightlifting or to use outside, these are not the best choice.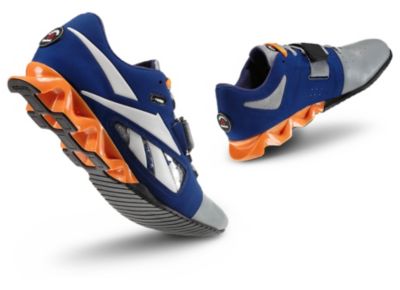 Men's Club Blue Mens Reebok CrossFit Lifter – $149.99
from: Reebok
8 color combinations to choose from!
Both Men and Women run true to size